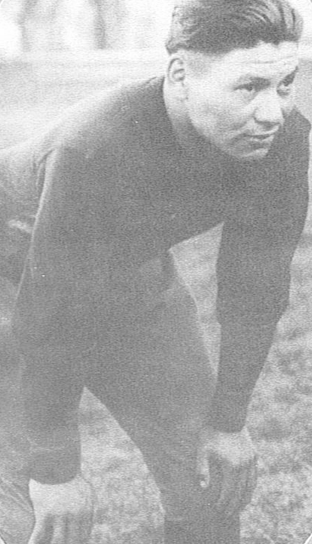 Elijah "Eli" Smith
1980 - Football/Baseball/Track - Onieda
DATE OF BIRTH: May 3, 1902

BIRTH PLACE: Oneida, Wisconsin
TRIBE: Oneida
EDUCATION: Haskell Institute, Lawrence, Kansas
Davis & Elkins College, Elkins, West Virginia
SPORTS DATA: Football, Baseball and Track
ACHIEVEMENTS:
Member of team awarded a special gold football with a cut diamond representing Undefeated and Highest Scoring Team in the Nation - The Haskell Indians, of 1926.
Haskell Institute - 1923-1926
Varsity four-year football letterman, 1923-1926.
Varsity four-year baseball letterman, 1923-1926
Varsity three-year track letterman, 1923-1925
Captain, 1925 Haskell Indians Baseball Team and holder of special record - Batting
Average - for one season of .650 percent.
In 1926 named to Kansas All-State College backfield Second Team and to Halfback on All-Time All-Haskell Indian Second Team.
Holder of special record at Haskell Institute for most points after touchdown as a place kicker.
Named on "All Opponent" Team selected by Boston College in 1926, and his 75- yard run for touchdown against Bucknell University on the day the new Haskell Stadium was dedicated was given recognition by Helms Athletic Foundation as one of the "best" of the 1926 season.
Played for Davis & Elkins College - 1928-1930
Varsity football and varsity baseball letterman - voted best ball carrier and place kicker on State Championship Team in West Virginia in 1929.
QUOTE: 1927 Haskell Annual
"Eli Smith, Haskellís fastest back, came into his own in the 1926 season. Even at Haskell where good backs have been abundant in times past it is seldom that one of Eliís caliber has been developed and it is extremely doubtful if his 1926 performance has ever been surpassed. His long, dazzling runs this year brought the stands to their feet in many cities throughout the United States, Boston, Bucknell, Michigan State, in fact, all the teams encountered this season will testify to his speed and drive. "