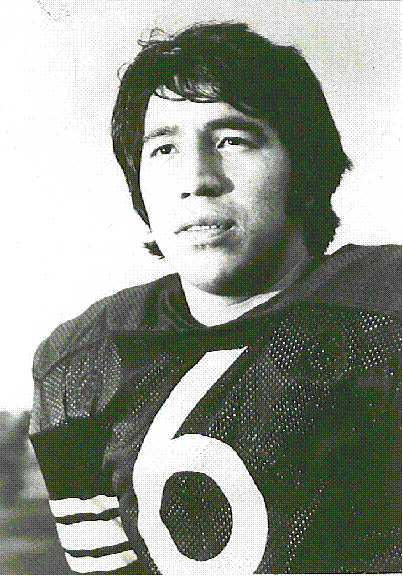 Alex "Sonny" Sixkiller
1989 - Football - Cherokee
DATE OF BIRTH: September 6, 1951


BIRTH PLACE: Tahlequah, Oklahoma
TRIBE: Cherokee
EDUCATION: University of Washington, Seattle, Washington
SPORTS DATA: Football
ACHIEVEMENTS:
Washington "Husky" Varsity Football Letterman 1970-1972
National Honor Selection to national NCAA Passing Champion as quarterback on Washington "Husky" Football Team 1970
Co-Captain Washington "Husky" football Team 1971
Co-Captain Washington "Husky" football Team 1972
As Washington University Quarterback established Individual Career Records in the categories of Most passes Attempted (811), Most Yards passing (5,496), Most Touchdown Passes (35), Most Yards Total Offense (5,288). In 1970 completed 30 passes against University of Southern California in one game.
QUOTE: Los Angeles Times
"The Cherokee quarterback has captured the town (Seattle) without a struggle, because his arrows have hit often enough to bring the Washington Huskies back to foot ball respectability."