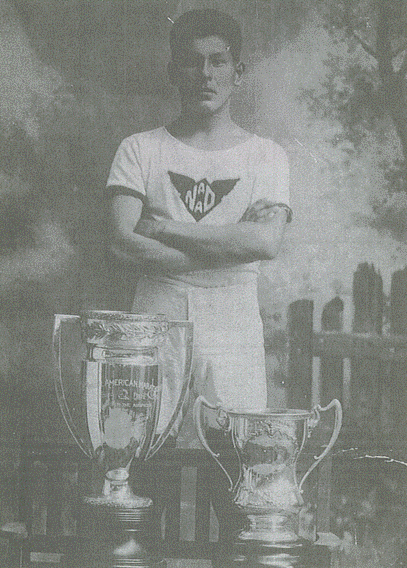 Andrew Sockalexis
2000 - Marathon Runner - Penobscot
DATE OF BIRTH: January 11, 1892
DATE OF DEATH: August 26, 1919
BIRTH PLACE: Indian Island, Maine
TRIBE: Penobscot
EDUCATION: Old Town High School, Old Town, Maine
SPORTS DATA: Marathon Runner
ACHIEVEMENTS:
1911 - 1st Place Bangor Maine 5 Mile Run
1912 - 2nd Place Bangor Maine 20 Mile Run
1912-1913 2nd Place Boston Marathon - first Maine Athlete to compete in modern Olympics, 4th Place finish Stockholm Olympics - American marathon Team
1913 - Became professional Runner
1984 - Inducted into the Maine Sports Hall of Fame
1991 - Inducted into the Maine Running Hall of Fame
COMMENTS: Boston Athletic Association 1912 Boston Marathon
"U.S. Olympic bound marathoner Mike Ryan of New York ran through a mud and slush filled course to finish first in 2:21:18 and take 21 seconds off DeMarís one year old record. Ryan was content to let Yale freshman Johnny Gallagher set the early pace. As Gallagher tired near Cleveland Circle, Andrew Sockalexis, a young Indian runner from Old Town, Maine, took over the lead. Ryan caught Sockalexis two miles from the finish and won by 34 seconds."
Boston Athletic Association 1913 Boston Marathon "For the second consecutive year the "Maine Indian" Andrew Sockalexis was the runner-up. Knowing he had raced too hard in the early going the previous year, Sockalexis let Swedish born Fritz Carlson set the early pace. Carlson was four minutes ahead of Sockalexis with four miles remaining when the runners hit Cleveland Circle. Carlson held off a valiant rush by Sockalexis over the final few miles to win the race in 2:25:14."