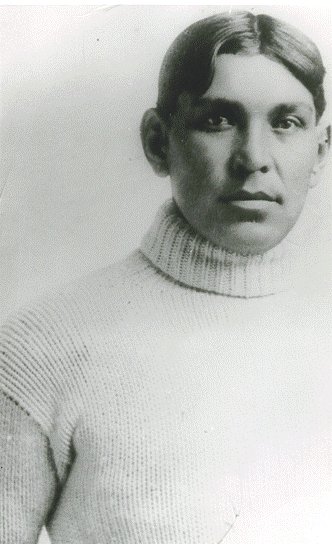 Bemus Pierce
1973 - Football - Seneca
DATE OF BIRTH: February 28, 1873

BIRTH PLACE: Seneca Reservation, New York
TRIBE: Seneca
EDUCATION: Carlisle
SPORTS DATA: Football: Guard - Carlisle
ACHIEVEMENTS:
Honorable Mention All-American Guard 1894
Second Team All-American Guard 1896
Captain Carlisle 1895, 1896, and 1897
Professional Football Homestead Athletic Club 1900 - 1901
COMMENTS:
Bemus Pierce became one of Carlisle's first All-Americans as a result of his ferocious playing at the line position. His six foot one and one-half inches, 225 pounds of muscle left vivid impressions on those who came in contact with him in football wars. In the years from 1894 to 1897 he reaped the plaudits of football coaches, sportswriters and the public for his prowess on the gridiron with the famous Indian teams of the time.