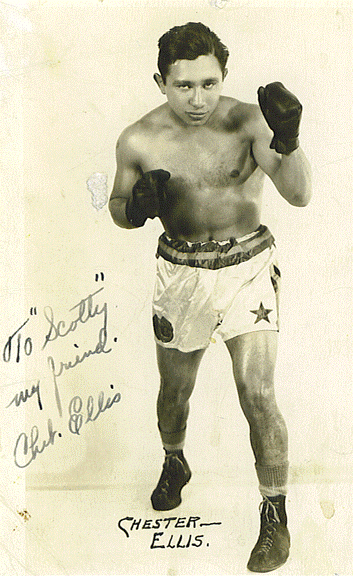 Chester "Chet" Ellis
1977 - Boxing - Seneca
DATE OF BIRTH: August 27, 1913

BIRTH PLACE: Red House, New York
TRIBE: Seneca
EDUCATION: Haskell Institute
SPORTS DATA: Boxing - Amateur and Professional
ACHIEVEMENTS:
Kansas National Guard Camp Champion, 126 pound division, as member of Troop "I" 114th Cavalry, Kansas National Guard. Haskell
Institute, Lawrence, Kansas - 1935 and 1936.
Featherweight Champion. AAU, Haskell Institute, 1935-1937
Captain of Haskell Boxing Team, 1935 - 1937.
Kansas City Star Golden Gloves Bantamweight Champion, 1938 and 1939.
National Golden Gloves Bantamweight Champion 1939.
International golden Gloves Bantamweight 1939.
QUOTES: Kansas City Star:
"Loved and respected by his neighbors and friends of all creeds, Indian and white, his loss will be felt by all." "As a member of the 1939 Kansas City Star Team, Chester Ellis was the first Indian to win a national title in Golden Gloves competition. When he fought his way to the international bantamweight boxing championship, he became the first member of his fighting race ever to achieve the supreme crown in the sport. Kansas City is proud of its champion. He is a 100 percent American, both by blood and by spirit."