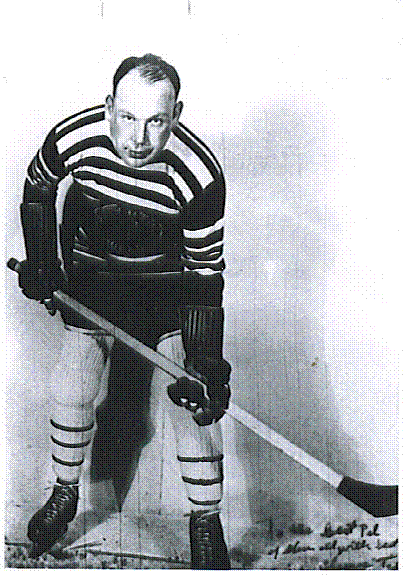 Clarence "Taffy" Abel
1989 - Hockey - Chippewa
DATE OF BIRTH: May 21, 1901
DATE OF DEATH: August 1, 1964

BIRTH PLACE: Sault Ste. Marie, Michigan
TRIBE: Chippewa, Sault Ste. Marie Band
EDUCATION: Sault Area High School, Sault Ste. Marie,Michigan
SPORTS DATA: Hockey - Amateur and Professional
ACHIEVEMENTS:
Amateur Hockey Player - 1920-1926
1920-21 and 1921-22 hockey seasons, played with field's nationals, winning US Championship Title in the latter season.
1922-23 and 1923-24 hockey seasons, played with St. Paul Athletic Club as star defense man. Selected as member of All-Star Hockey Team to represent the United States in 1924 Winter Olympic Games at Chamonix, France. As captain and color bearer of the United States Team, he had the honor of carrying the Stars and Stripes in the Olympic parade and took the Olympic Oath for all the United States players.