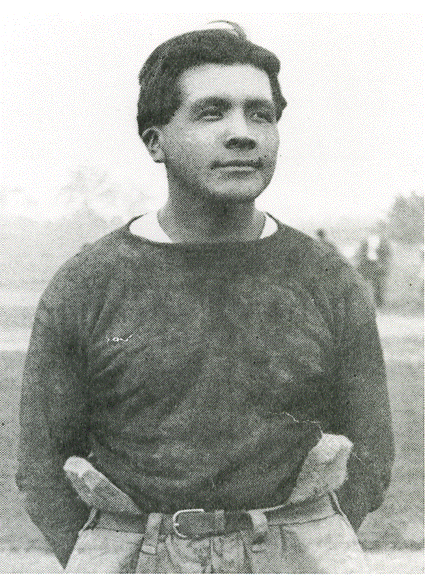 Elmer Busch
1973 - Football - Pomo
DATE OF BIRTH: 1890
DATE OF DEATH: Unknown

BIRTH PLACE: California
TRIBE: Poma
EDUCATION: Carlisle
SPORTS DATA: Football: Tackle - Carlisle
ACHIEVEMENTS: College Athletics
2nd team All-American Tackle 1913
Captain Carlisle football team 1914
All-Time Carlisle Indian team
COMMENTS:
In 1911 Carlisle won 11 and lost 1 game.
The team of 1912 averaged less than 170 lbs. with Busch who was 22 years old, the heaviest, weighing 186 pounds and standing 5'10" tall. In 14 games the Redskins piled up a total of 504 points as against their opponent's 114 points. Their record was 12 wins, 1 loss,
1 tie.
In 1913 Carlisle won 10, lost 1, and tied 1 game.
The three center linemen Busch, Garlow and Hill consistently beat their heavier opponents, allowing the backs to plow through for good gains.