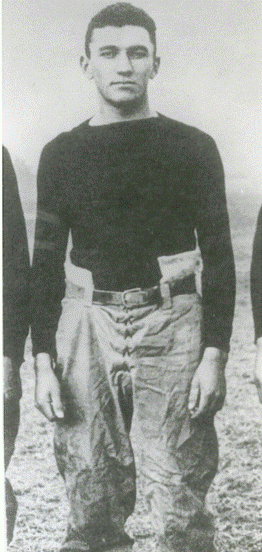 Gustavus "Gus" Welch
1973 - Football - Chippewa
DATE OF BIRTH: December 23, 1892

BIRTH PLACE: Spooner, Wisconsin
TRIBE: Chippewa
EDUCATION: Carlisle

SPORTS DATA: Football: Quarterback
ACHIEVEMENTS:
Second Team All-American Quarterback 1913
Captain of Carlisle Football Team 1913
Professional Football, Canton Ohio Bulldogs 1915 - 1917
COMMENTS:
Welch attended Carlisle and played on their football team during the Indian School's height of excellence in sports - 1911, 1912 and 1913. During these years Carlisle won 33, tied 2, and lost 3 games. Carlisle was the only school in the nation who would week after week play the top teams in the nation. He could do anything any coach could expect of a dream quarterback.
Gus Welch, 5'11", 152 lbs., Chippewa from Minnesota, and Captain of the 1913 Team was ranked as one of the three best quarterbacks in the nation. Was named Second Team All-American 1913 as well as Honorable Mention on many Sports Writers lists.