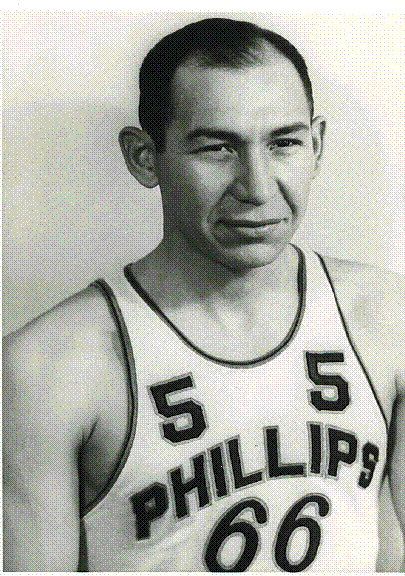 Jessie B."Cab" Renich
1973 - Basketball - Choctaw
DATE OF BIRTH: September 29, 1917


BIRTH PLACE: Love County, Marietta, Oklahoma
TRIBE: Choctaw
EDUCATION: Oklahoma A & M

SPORTS DATA: Basketball : Forward
ACHIEVEMENTS:
Helms foundation All American 1939 & 1940
NEA All American 1939 & 1940
AAU All American 1947 & 1948
Captain 1948 USA Olympic Basketball Team
Gold Medal Winner - USA Basketball Team Olympic Games 1948
COMMENTS:
Upon graduating from college Renick was commissioned an officer in the US Navy and
received his wings as a Naval Pilot.
After his military service, he played basketball for the Phillips 66 Oilers and in
1948 was selected to the USA Olympic Basketball Team. He was chosen Captain
of the team and was carried off the floor by his teammates following their 65-21 victory over
France to capture the Olympic Basketball Championship.
In 1948 Jesse "Cab" Renick became coach; player of the Phillips 66 team and in his first 3 seasons won 153 games and lost only 9 for a winning percentage of .9444.
In 1961 Renick experienced one of his greatest moments when he adopted and became the father of six orphaned Indian children.