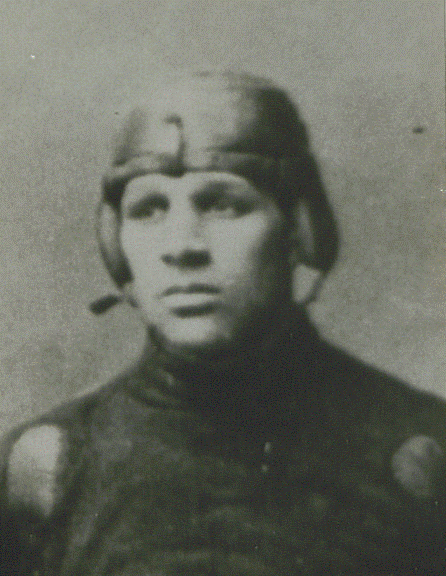 Jimmie Johnson
1972 - Football - Stockbridge/Munsee
DATE OF BIRTH: June 6, 1879
DATE OF DEATH: January, 1942

BIRTH PLACE: Edgerton, Wisconsin
TRIBE: Stockbridge - Munsee
EDUCATION: Carlisle Indian School 1899-1903
Northwestern University 1904-1905
SPORTS DATA: Football
ACHIEVEMENTS:
Football - Carlisle Quarterback 1899-1903
1903 - Carlisle wins 10 games.
Johnson named to Walter Camps 1903 All-American Football Team
"Hidden ball trick" against Harvard became a legendary story about Pop Warner.
Defeated Northwestern 28-0 in final game of 1903 season.
Enrolls in Northwestern's Dental School - Plays quarterback for two Seasons, 1904-05.( Until 1906 it was legal for a school to play graduate students even though they had played four years somewhere else.)
Named Captain of Northwestern team.
Led Northwestern to 16 wins, 1 tie, 4 losses.
Member of College Football Hall of Fame.
COMMENTS:
Johnson was not big but he was cunning and shrewd, an excellent field goal kicker and a great leader. He was a great improviser and was the quarterback who called the huddle and ran the football inside the back of Dillons Jersey against Harvard in 1903.
Following graduation he remained at Carlisle as Assistant Coach until 1906, when he entered Northwestern University and graduated from the School of Dentistry until his death. ( Above quote wrongly put on Johnsons plaque. Actually enrolled at Northwestern in 1904.)