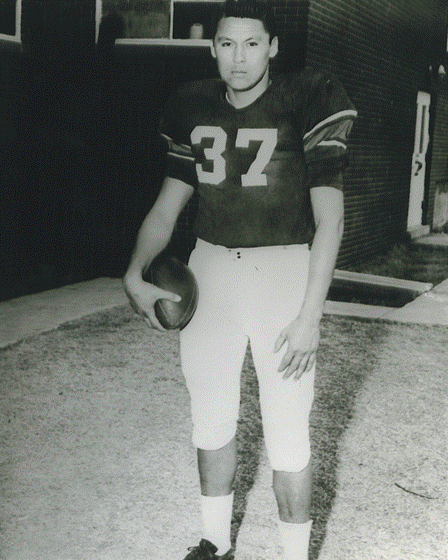 Jimmie Wolfe Jr
1973 - Football - Kiowa
DATE OF BIRTH: December 28, 1934

BIRTH PLACE: Mountain View, Oklahoma
TRIBE: Kiowa
EDUCATION: Panhandle A&M State College
SPORTS DATA: Football
ACHIEVEMENTS:
3rd Team All-American NAIA 1958
3rd Team Associated Press Little All-American 1958
COMMENTS:
Jr. Wolf set the National Small College Season Scoring Record of 25 touchdowns in 1958.
Wolf set the National Small College Single Game Scoring Record of 8 touchdowns in 1958. National College Division Scoring Champion 1958.
QUOTE: Kansas City UPI
"Jr. Wolf, Kiowa Indian playing halfback for Panhandle A&M of Goodwell, Oklahoma, went on the warpath with 8 touchdowns last weekend beating the single game scoring records of the National Association of Intercollegiate Athletics."