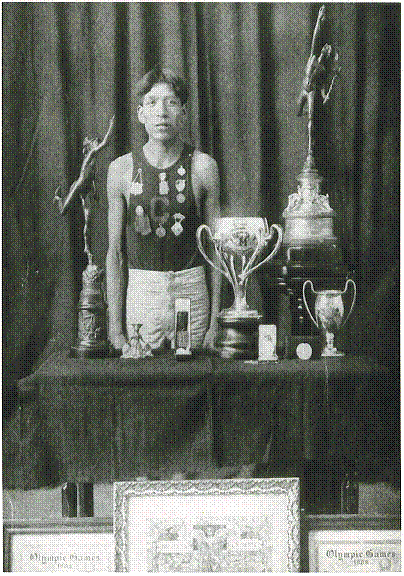 Lewis Tewanima
1972 - Track & Field - Hopi
DATE OF BIRTH: 1879
DATE OF DEATH: 1969

BIRTH PLACE: Second Mesa, Arizona
TRIBE: Hopi
EDUCATION: Carlisle Indian School 1907-1912
SPORTS DATA: Track
ACHIEVEMENTS:
Track, Distance Runner
Member of the 1908 Olympic Team
Member of the 1912 Olympic Team; 2nd Place Olympic 10,000 meters
Helms Foundation Member to the all-time US Track and field Team 1954
Arizona Sports Hall of Fame Member 1957
Established a new World Record in the ten mile run 1909
QUOTE: From Indgenous Voices of the Clorado Plateau:
Tewanima was a member of the 1908 and 1912 United States Olympic track teams. In the 1908 games, he placed 9th in the marathon. In 1912, he won a silver medal and established a record that stood for 52 years until it was broken by another Native American team member. Tewanima was educated at the Carlisle Boarding School in Carlisle, Pennsylvania. Stories tell of Tewanima running 120 miles from his home on the Hopi Mesas to the town of Winslow, Arizona in one day, just to watch the trains pass. At school in Carlisle, he once missed the train to a track meet and ran eighteen miles to the meet, where he placed second in the two mile event.
QUOTE: Jim Thorpe writing in 1940 remembered:
I recall the day Carlisle had a dual meet with the Lafayette College 20 man team. We had only three Indians (Me) Frank Mount Pleasant, and Louis Tewanima. Tewanima's reply was; 'Me run fast good'. All Hopis run fast good.' Almost immediately, Tewanima proceeded to clean up everything America had to offer in the 10-mile and 15-mile races.