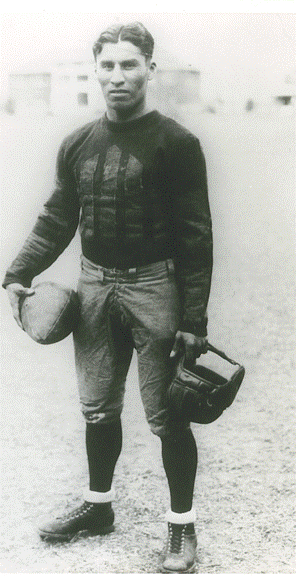 Louis "Rabbit" Weller
1972 - Football - Caddo
DATE OF BIRTH: March 2, 1904

BIRTH PLACE: Anadarko, Oklahoma
TRIBE: Caddo
EDUCATION: Haskell Institute, Lawrence, Kansas

SPORTS DATA: Football (Track, Baseball, Basketball)
ACHIEVEMENTS:
Football :

All-State, Kansas – four years
All-American honorable mention Team two-years
No. 1 All-Western Team chosen by Knute Rockne
Second All-American Team by United Press

Professional Football:

Boston Redskins of the NFL for one year
Tulsa Oilers of the AFL for one year
COMMENTS:
Dr. James Naismith, the "Father of Basketball" is quoted as saying the Weller was "the most efficient dribbler" in the history of basketball up to that time.
In a personal dedication to Louis Weller by Frank W. McDonald former Haskell Athletic Director and author of the book, "John Levi of Haskell", he states: "Louie" Rabbit Weller has given me many, many thrills watching him "cavort" on the gridiron." "Your fabulous record as an athlete at the greatest of all Indian Schools. . . You have played an outstanding part in making Haskell famous."