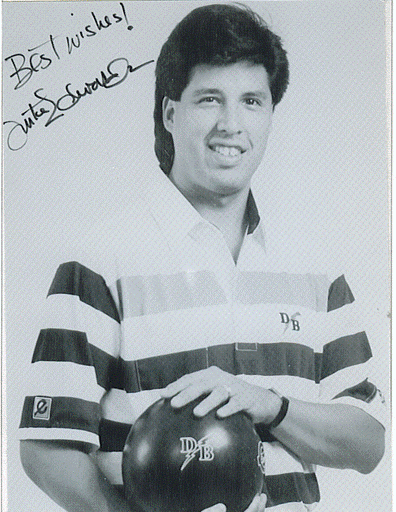 Mike Edwards
1997 - Bowling - Cherokee/Choctaw/Chickasaw
DATE OF BIRTH: 1961

BIRTH PLACE: Tulsa, Oklahoma
TRIBE: Cherokee/Choctaw/Chickasaw
EDUCATION: Edison High School, Tulsa, Oklahoma
Tulsa Jr. College, Tulsa, Oklahoma
OKC Community College, Oklahoma City, Oklahoma
SPORTS DATA: Bowling
ACHIEVEMENTS:
1979 - Won Boys Open Division Scholarship Championship, Chickasaw, Oklahoma
1984 - Six - 2nd Place Finishes in PBA career
1985 - Won Bowlers Journal World Doubles Championship, Tulsa, Oklahoma
1989 - Named to Bowlers Journal Magazineís 3rd Team All-American Squad;
2nd Place in ABC bud Light Masterís Tournament, Wichita, KS;
6th Place in BPAA U.S. Open championship Edmond, OK
1991 - One of four Pros in PBA history to participate in four Consecutive ABC sport championship round Telecasts; 4th Place Showboat Invitational, Las Vegas, NV; 3rd Pace ARC Open, Pinole, CA; 2nd Place, Quaker State Open, Grand prairie, TX; 2nd Place, Florida Open, Winter Haven, FL
1992 - Established 3 game series record for State of OK with a 869 series; 290-279-300, Edmond, OK
1993 - Co-holder of PBA Record for highest single match game score - a 300 - 300 Tie against David Ozio, San Antonio, TX; Featured in ABC Bowling magazine entitled "The Year of the Indian"
1994 - Won first Pro Bowlers Assoc. Title at IOF Foresters bowling for Miracles Open, Toronto, Ontario
1995 - Ranked in top 40 on PBA All-time money list. He has bowled 26 perfect games - 12 during PBA tour and 14 sanctioned league and tournament events.