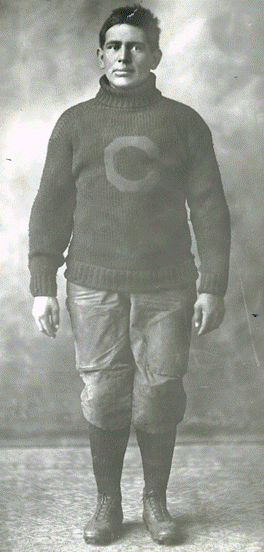 Peter "Pete" Hauser
1987 - Football - Cheyenne
DATE OF BIRTH: 1884
DATE OF DEATH: July 21, 1935

BIRTH PLACE: El Reno, Oklahoma
TRIBE: Cheyenne
EDUCATION: Haskell Institute, Lawrence, Kansas
Carlisle Indian School, Carlisle, Pennsylvania
SPORTS DATA: Football: Fullback
ACHIEVEMENTS:
Varsity Football letterman, Haskell Indians, 1904 and 1905
Varsity Football Letterman, Carlisle Indian School, 1906, 1907, 1908, 1909, 1910
Captain, Carlisle Redskins Football Team, 1910
National Honor Selection to All-American Honorable Mention, 1910
COMMENTS:
Quote: Fabulous Redmen - Coach Warner was once asked by a Carlisle Herald reporter to name an All-Time Carlisle Indian Team. According to the reporter, Warner's choice for the position of fullback was Peter Hauser. Warner explained his selection by estimating the merits of each man.
Hauser: Great fullback and passer. Hauser, who sometimes is credited with having thrown the first spiral pass, would hit his ends on the dead run with uncanny accuracy. Pete Hauser was practically a replica of Jim Thorpe. He was as good as Jim in all sports except track.