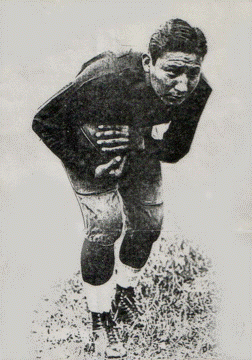 Pete W. Shephard
2007 - Football - Santee Sioux
DATE OF BIRTH: July 24, 1908
DATE OF DEATH: December 28, 1990

BIRTH PLACE: Flandreau, South Dakota
TRIBE: Santee Sioux
EDUCATION: Flandreau High School, Flandreau, SD
Haskell Institute, Lawrence, KS
Chillicothe Business College, Chillecothe, MO - BA
University of Oklahoma, Norman, OK - MA Degree
SPORTS DATA: Football
Achievements:
1928 - 1931 Football Quarterback and Defensive Linebacker, on Haskell Institutes greatest teams!
Intercepted four passes in one game.
Was identified as the best blocker in the country while playing for the Haskell Indians!
Ability, Integrity, Sportsmanship and Character, Pete Shepherd had them all!
A Great leader in Indian Education.