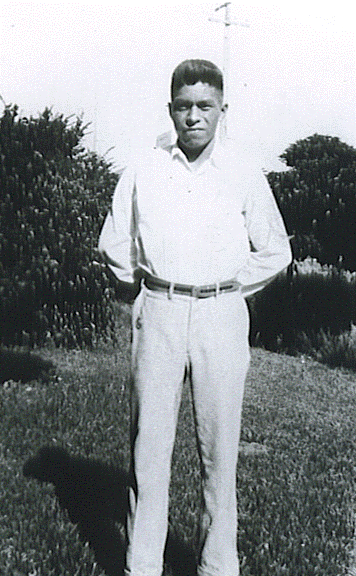 Phillip Osif
1977 - Track/Cross Country - Pima
DATE OF BIRTH: 1906
DATE OF DEATH: September 1, 1956
BIRTH PLACE: Pima Indian Reservation, Sacaton, Arizona
TRIBE: Pima
EDUCATION: Haskell Institute, Lawrence, Kansas
SPORTS DATA: Track and Cross Country
ACHIEVEMENTS:
Captain, 1927 Haskell Cross Country Team
Captain, 1927 Haskell Track Team
Member of 1927 Haskell 2-mile relay Team Ė undefeated in Texas Relays, Kansas Relays, knights of Columbus Games, Penn Relay Games, and Rice Relays
National AAU Junior and Senior 6-mile champion
1500-meter Illinois Relay Champion
3000-meter Kansas University Relay Champion
1927 Missouri Valley AAU 2-mile record holder
QUOTE: 1927 Haskell Annual
"Haskellís indoor track season came to a successful close when Coach Dick Hanley entered his star, Captain Osif, in a two-mile special event against a relay of Kansas and Missouri freshmen at the annual Kansas University-Missouri dual meet held at Convention Hall. A Kansas and a Missouri freshman took Osif through the first mile and turned over a twenty-yard lead to a lone Kansas University freshman who increased the lead given to him to fifty yards in the first half of the last mile. From this mark Osif began to cut down his opponentís lead on the last lap caught his rival and raced his rivalís heart out in the last seventy yards, winning with ten yards to spare and breaking The Missouri Valley record, setting a new mark of 9 minutes 28 3/10 ths seconds."