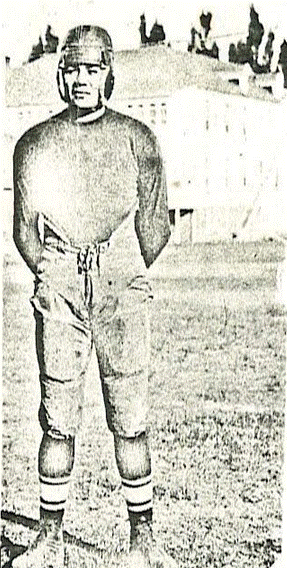 Walter Johnson
1973 - Football - Paiute
DATE OF BIRTH: August 18, 1908


BIRTH PLACE: In a cabin in the White Mountains on the Nevada/California State Line
TRIBE: Paiute
EDUCATION: Haskell Institute and University of Redlands
SPORTS DATA: Football
ACHIEVEMENTS:
Honorable mention All-American 1931 - fullback
Annual East-West Shrine Football Game 1932 (West Team)
All Kansas Honorable mention Fullback 1932
All Conference Fullback university of Redlands 1934
QUOTE - sports Writer, Roy Cummings, January 1, 1932:
"Punting honors seem to belong to Walter Johnson, the Haskell Indian Athlete. Johnson is an unorthodox kicker with very little form but he still has the prime requisite, he gets the ball down the field 50 yards every kick."
In 1937 he began his 33 year career as teacher, advisor and coach at Sherman Indian School in Southern California. In 1948 he transferred to Stewart Indian School as a teacher and a coach until his retirement in 1970.