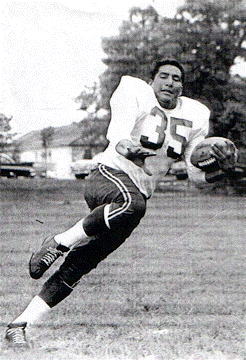 William "Bill" M. Breddé
2007 - Football - Quechan / Pawnee
DATE OF BIRTH: December 31, 1932
DATE OF DEATH: September 19, 2006

BIRTH PLACE: Quechan Indian Reservation near Yuma, Arizona
TRIBE: Quechan / Pawnee
EDUCATION: Pawnee High School, Oklahoma
Oklahoma A & M (Oklahoma State University)
SPORTS DATA: Football
Achievements:Teams Sanders Played For
1954 - Played offense and defense for four years for the Oklahoma A & M Cowboys. He was a super star on defense and special teams.
Led the Cowboys to a 7 - 2 season in 1954. He returned the kickoff 98 yards against the Oklahoma Sooners.
Led his team in Punt - returns, and interceptions 3 successive years. Led his team in kickoff returns two years.
Selected to play in College All-Star Game at Soldier Field in Chicago, Illinois. Played in the Shrine East - West Game at Kezar Stadium in San Francisco, California. Played in the Blue - Gray College All-Star Game in Montgomery, Alabama.
In 1954 "Pawnee" Bill Breddé was the fourth round draft pick of the Chicago Cardinals of the National Football League. He was the 37th player picked in the draft. He played in 12 games for the Cardinals. He played on offense and defense.
Special Honors - Named to Oklahoma State University's All Century Foot ball Team.